1990
Paul Reed Smith was looking to expand his electric guitar business by introducing an acoustic model. He had approached Dick Boak, who made a couple of Martin prototypes (Martin MC-18 instruments with PRS headstock shapes). But Smith, having seen a single Schoenberg Soloist at an Association of Stringed Instrument Artisans (ASIA) convention in Pennsylvania in June, 1990, approached Schoenberg and Bourgeois regarding purchasing their endeavor. Ultimately, Bourgeois thought it was feasible while Schoenberg did not. As a result, Dana went to work for Paul Reed Smith, designing an acoustic guitar.
Before departing, Dana completed a faithful replica of a 1930 Martin OM-45 Deluxe:

A Schoenberg OM-45 Deluxe.
This instrument was reviewed by Roger Sadowsky in his article, "History Comes Alive: Schoenberg Recreates The Classic OM-45 Deluxe", in the September, 1990, issue of Guitar Player magazine. Dana was, inadvertently, not mentioned as the builder, and a subsequent issue ran a correction of this glaring omission.

October, 1990
Dana Bourgeois and T. J. Thompson, Dana's former apprentice, jointly completed a final batch of Schoenberg Soloists at C. F. Martin & Company. They were assisted by current Bourgeois apprentice Tom Williamson. These guitars were begun by Dana. The instruments bore no internal label. Instead, they were stamped with T.J Thompson's brand.


A Dana Bourgeois / T. J Thompson collaborative Soloist from 1990.

# 500,079
Another Dana Bourgeois / T. J Thompson collaborative Soloist from 1990.
This is a Mahogany "Custom".
Click here for additional images.
Dana Bourgeois built eleven Paul Reed Smith prototypes, an original design he called the Jumbo OM Cutaway. When the PRS acoustic plan was canceled at the end of 1992, Bourgeois opened Dana Bourgeois Guitars in Lewiston, Maine, in 1993, with the JOMC as the centerpiece of his line.

A Paul Reed Smith acoustic prototype by Dana Bourgeois.
Meanwhile, Eric Schoenberg was left to continue the Soloist project in Dana's absence. Enter stage right T. J. Thompson. Thompson was an old friend of Schoenberg's who had served as Dana's first apprentice and "employee" from 1983-1986, just before the Soloist project got underway. In fact, he assisted Dana during the construction of the first Soloist prototype for Eric. In 1986 he had left Dana's shop to work as head of the repair department at Elderly Instruments in Lansing, Michigan.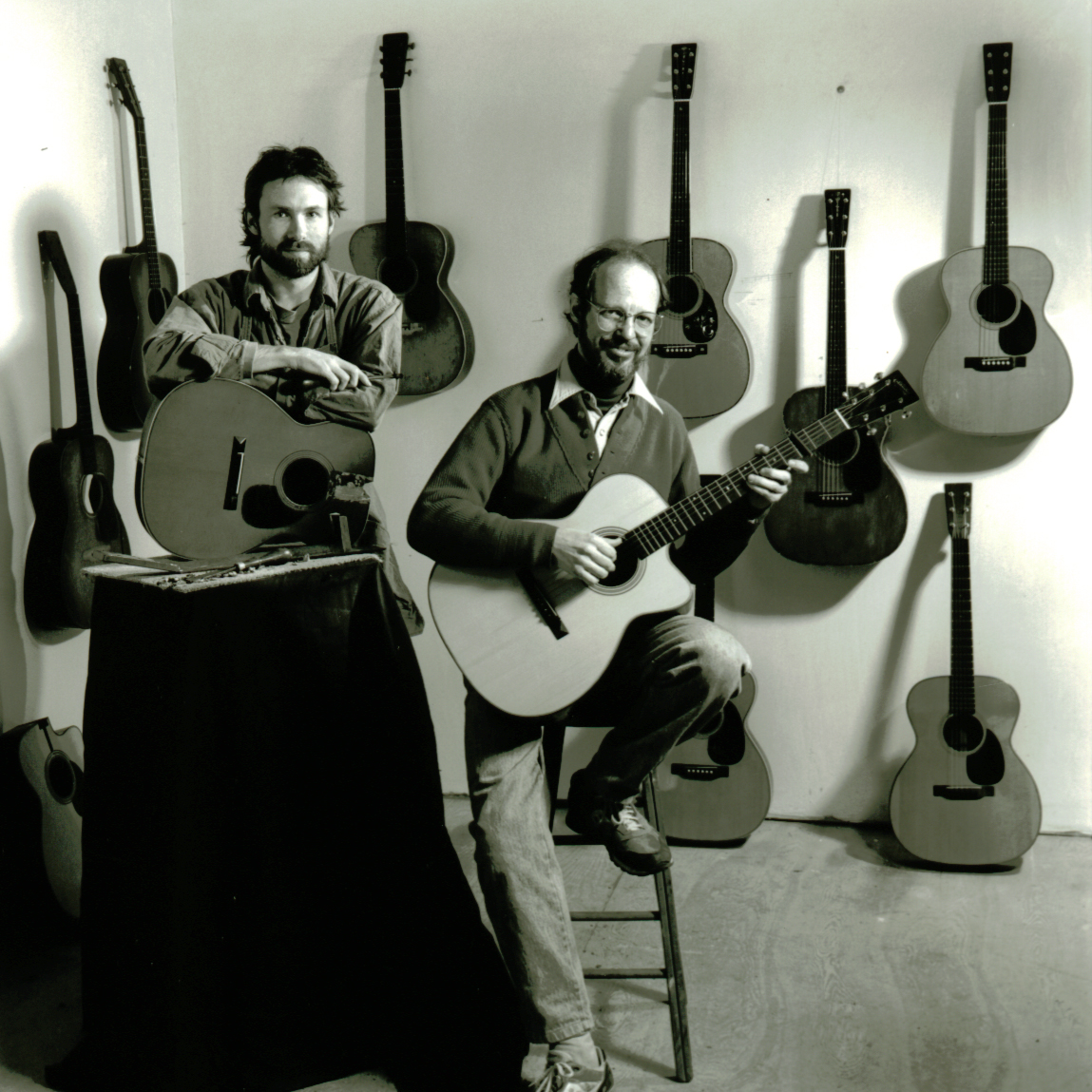 Luthier T. J. Thompson with Eric Schoenberg, who is playing a Soloist.
---